Beyond the Battlefields Exhibitions and Events
Beyond the Battlefields:
Käthe Buchler's Photographs of Germany in the Great War
20 October 2017 – 14 January 2018
University of Birmingham and
Birmingham Museum & Art Gallery
Beyond the Battlefields is assembled from a unique series of images made by photographer Käthe Buchler (1876-1930) before and during the First World War in Germany and which are part of the collection of the Museum of Photography, Braunschweig, where Buchler lived and worked. This is the first time that Buchler's work has been displayed outside Germany.
Buchler's exquisitely posed images are those of a respectable, bourgeois wife and mother with significant technical expertise and a remarkable (and little known) aesthetic vision. Through different picture cycles, she examines the care of orphaned children and wounded troops, Germans at work and at leisure – including a fascinating series made late in the war entitled 'Women in Men's Jobs'– and presents the dislocations of war along with striking moments of human warmth. In so doing she offers us a fascinating window on the preoccupations of ordinary Germans living and working hundreds of miles away from the fighting.
There will be two exhibitions in Birmingham, at Birmingham Museum and Art Gallery, focusing on Buchler's images of women and children, and at the University of Birmingham where her photographs of injured soldiers will be displayed alongside material relating to the University's role as a hospital during the War.
DOWNLOAD the University of Birmingham exhibition pamphlet.
Selected events (more to follow)
Saturday 18 November 2017, 11am-5pm
Library of Birmingham, Heritage Learning Space
Women & photography symposium. This event is part of the Being Human festival, the UK's only national festival of the humanities, taking place 17–25 November. For further information please see beinghumanfestival.org. To book your place visit the website.
Speakers include Matthew Shaul (co-curator of Beyond the Battlefields), Sian Roberts (University of Birmingham), Pippa Oldfield (Impressions Gallery), Hilary Roberts (IWM) and Alistair Murphy (Norfolk Museums).
Thursday 30 November 2017, 5.30-7pm
University of Birmingham,
Cadbury Research Library Seminar Room 
Project planning workshop around WW1, medicine/injuries & photography.Please contact Dr Nicola Gauld, Voices Centre Coordinator, for more information or to book a place: n.gauld@bham.ac.uk, 0121 464 3209
Saturday 9 December 2017, 10.30am-4pm
University of Birmingham,
Cadbury Research Library Seminar Room 
Birmingham WW1 soldiers/treatment/trauma symposium. To book your place please visit Eventbrite.

Beyond the Battlefields is a touring exhibition co-organised by the University of Hertfordshire Galleries, Museum für Photographie Braunschweig and the AHRC funded First World War Engagement Centres at the University of Birmingham (www.voicesofwarandpeace.org) and the University of Hertfordshire (everydaylivesinwar.herts.ac.uk).
20 October 2017 – 14 January 2018
Birmingham Museum and Art Gallery, Chamberlain Square, Birmingham B3 3DH, 0121 348 8032 www.birminghammuseums.org.uk/bmag
20 October 2017 – 14 January 2018 
University of Birmingham, Rotunda Gallery, Aston Webb Building, Edgbaston, Birmingham, B15 2TT, 0121 414 6750 www.birmingham.ac.uk
DOWNLOAD the complementary pamphlet
2 February – 1 March 2018
Grosvenor Gallery, part of the Holden Gallery, Manchester Metropolitan University (MMU), Cavendish St, Manchester M15 6BR, 0161 247 1705 www.holdengallery.mmu.ac.uk
15 March – 5 May 2018
University of Hertfordshire Galleries, College Lane, Hatfield AL10 9AB, 01707 284290 www.uharts.co.uk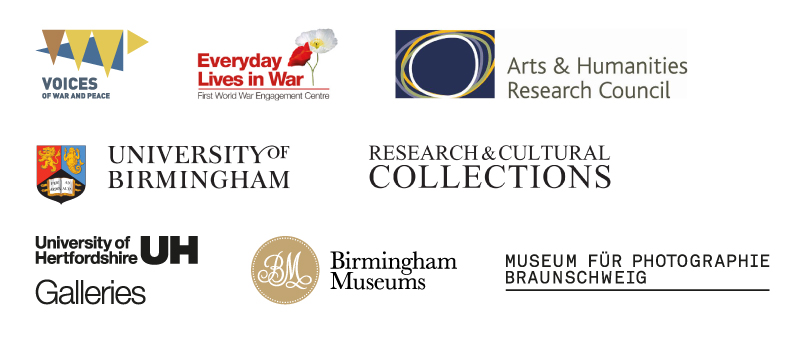 All images © Estate of Käthe Buchler – Museum für Photographie Braunschweig/Deposit Stadtarchiv Braunschweig
For further information on Käthe Buchler's work (in German) and images please visit: dasregionalegedaechtnis.de/fotoarchiv/fotografien-zwischen-idyll-und-heimatfront
dasregionalegedaechtnis.de/fotoarchiv/die-welt-in-farbe