World War One Engagement Centre: Voices of War and Peace
---
Latest News
Check out the latest news and information from the blog.
Birmingham Daily Gazette
Wednesday 27 September 1916
BIRMINGHAM CENTENARIAN.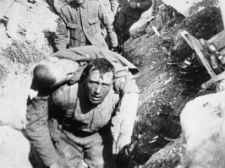 The Battle of The Somme, Imperial War Museums UNESCO listed film screening.
Blakesley Hall, Blakesley Road, Birmingham, B25 8RN
16 October 12pm
Birmingham Daily Post
Saturday 23 September 1916
GERMAN PRISONER'S DEATH IN BIRMINGHAM.
BISHOP OFFICIATES AT THE FUNERALS