World War One Engagement Centre: Voices of War and Peace
---
Latest News
Check out the latest news and information from the blog.
Rumours of 'liveliness' of the Germans in the North Sea.  Germans nearing Brussels.  Belgian scouts on the fields of Waterloo.  The Pope is dead.
All Rights Reserved. Priest Diary and images cannot be reproduced without permission of the owner.
I couldn't read the papers properly today.  They say the French have a firm footing in Alsace Lorraine, that our soldiers were very warmly welcomed in France and that there have been skirmishes in the North Sea.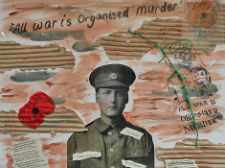 This new project by Footballfineart, 'The role and experience of soldiers of colour in the First World War' (funded by the HLF's 'Understanding the First World War' programme), aims to focus upon the contribution made to the First World War by manpower from Britain's colonies.