World War One Engagement Centre: Voices of War and Peace
---
Latest News
Check out the latest news and information from the blog.
This performance explores both the private and the public lives of Ada Salter from 1909 until 1922, interwoven with her beloved Ira Sankey hymns and her passion for Handel.
2pm, Saturday 30th May, Birmingham Museum & Art Gallery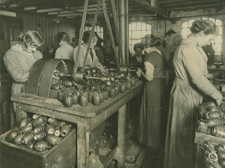 Women, Gender and the First World War: Home Fronts and War Fronts
One day Conference, University of Portsmouth, Saturday 10th October 2015
Venue: Park Building, 5 minute walk from Portsmouth & Southsea station
26th June – City Campus, University of Worcester
This conference, aimed at sixth form pupils, takes the recent centenary of the First World War and the seventieth anniversary of the VE as triggers to discuss aspects of children's relationship to war and violence in the last 100 years; asking how children's imagination and everyday lives have been shaped by conflict and violence.