World War One Engagement Centre: Voices of War and Peace
---
Latest News
Check out the latest news and information from the blog.
Nothing in the papers.  We saw trains going past with the Red Cross on each coach; two going towards Birmingham and one the other way. 
All Rights Reserved. Priest Diary and images cannot be reproduced without permission of the owner.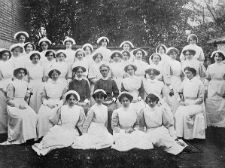 The University of Worcester's annual Women's History Conference seeks papers for next year's event on Saturday 21 November 2015 under the heading of The First World War: Nursing.
No news in the papers.  I went into town today by train.  There was a tremendous crowd outside Suffolk Street recruiting office.  It gave me a thrill to see them.  There were more crowds outside the Town Hall.