World War One Engagement Centre: Voices of War and Peace
---
Latest News
Check out the latest news and information from the blog.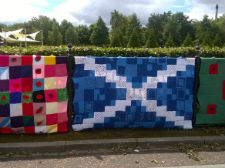 Dr Charlotte Methuen from the University of Glasgow and the Voices Centre recently helped support a community group called the Somme Observed Community Knitters, whose project received funding from the HLF.
Birmingham Mail
Friday 21 July 1916
A BIRMINGHAM WAR SHRINE.
Birmingham Daily Post
Thursday 20 July 1916
WOMEN ON THE LAND
BIRMINGHAM STUDENTS' SUCCESSFUL WORK