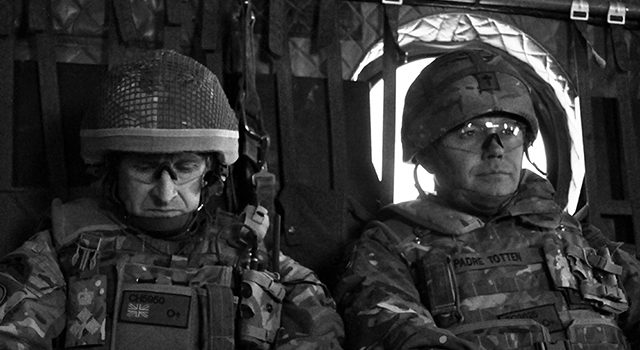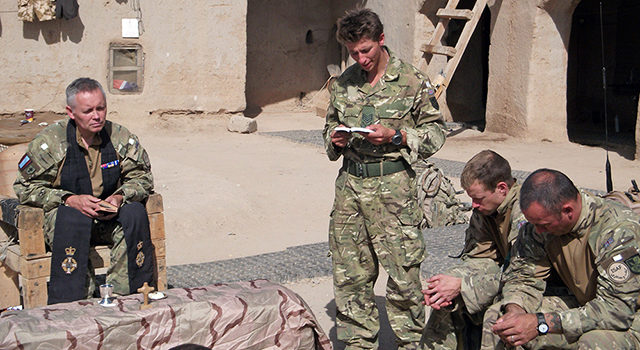 From Flanders to Helmand: a study of chaplaincy and change in the British Army, 1914-2014
Canon Professor Michael Snape, Durham University, and Dr Victoria Henshaw, University of Birmingham

This article examines questions of continuity and change in the religious experience of armed conflict, taking as its subjects the chaplains of the British Expeditionary Force (or B.E.F.) in France and Belgium between 1914 and 1918, and the mainly British component of Task Force Helmand (or T.F.H.) between 2006 and 2014. Drawing on evidence from both periods, including specially donated manuscript material and twenty-nine interviews with serving army chaplains, all of whom are veterans of Helmand, its findings reveal a remarkable degree of continuity between the experiences of chaplains in two very different operational contexts.
Whereas the B.E.F. waged a full-scale conventional war against a comparable European army, British forces in Helmand were engaged in an asymmetric counter-insurgency campaign against a complex and shifting array of local adversaries, loosely labelled the Taliban. Tightly enforced Rules of Engagement and mentoring and reconstruction responsibilities further differentiated the mission of T.F.H. from that of the B.E.F., as did questions of scale. If the upper limit of Britain's commitment to its operations in Helmand peaked at the end of 2009 (during Herrick XI), when there were 9,500 British troops in Afghanistan, the B.E.F. reached its greatest size in August 1917, when it comprised more than 2 million officers and men. Nevertheless, and despite these contrasts, comparisons between the Western Front and Helmand remain valid. These were the theatres in which the British army made its longest, bloodiest and most significant effort in the First World War and in the so-called 'War on Terror', and where (for the purposes of this study) the development of chaplaincy can be most closely observed.
One of the defining similarities between British army chaplaincy on the Western Front and British army chaplaincy in Helmand was that the Chaplains' Department, like the rest of the British army, began its operations under-equipped, under-prepared, and with no general appreciation that the fighting in prospect would be as bloody and protracted as it transpired to be. The British army's fifty-one month campaign in France and Belgium was the bloodiest in its history, and left nearly 500,000 of its soldiers dead in its wake. In Helmand, the British army initially encountered 'some of the most intense warfighting seen since Korea', a phase succeeded by a protracted struggle against the Taliban that was overshadowed from Herrick VII (October 2007-April 2008) by the threat of IEDs.  Given gigantic strides in military medicine and surgery in the preceding century, the grim tally of 453 British fatalities in Afghanistan tells only a partial story. Between 2006 and 2014, a further 2,188 British service personnel were also treated as wounded in action at ISAF field hospitals. Furthermore, monthly totals of dead and wounded could surge during periods of intense fighting, notably in the summer of 2009 during Operation Panchai Palang ('Panther's Claw'). The rate of casualties during Herrick X (April-October 2009) – casualties which, it must be stressed, were largely bore by relatively small numbers of combat troops –  invites credible comparison with the First World War, and the heavy toll on officers and NCOs is certainly consistent with casualty patterns on some of the worst battlefields of the Western Front.
In terms of the chaplain's functions, the pattern was one of marked continuity, as were the practical problems the chaplain faced. In 1914, King's Regulations defined the basic duties of British army chaplains as being to lead public worship and to bury the dead. Although augmented by pastoral visiting and other unofficial duties in peacetime garrison life, on active service in France and Belgium British chaplaincy had to evolve a new modus operandi, which in time included running canteens, visiting front-line trenches and assisting with the collection, dressing and care of the wounded. In discharging this ministry, chaplains were dogged by very practical problems, perhaps the most fundamental of which (especially for what was essentially a ministry of presence) was transport.  For those who could ride, a shortage of draught animals meant that their mounts were taken away in 1917, and even senior chaplains struggled to gain ready access to army motor cars. In Helmand, the dangers of ground movement and chronic shortages of suitable transport (notably helicopters in early Herrick tours) meant that chaplains were still faced with the challenge of reaching soldiers who could be widely dispersed in platoon houses, patrol bases or checkpoints. Consequently, on Herrick XIII (October 2010-April 2011) Padre Robin Richardson, then attached to 3 PARA, discovered that the most reliable means of travelling any distance was in the cab of a fuel tanker- space that was usually shunned owing to the obvious consequences that could result from an insurgent ambush or IED strike.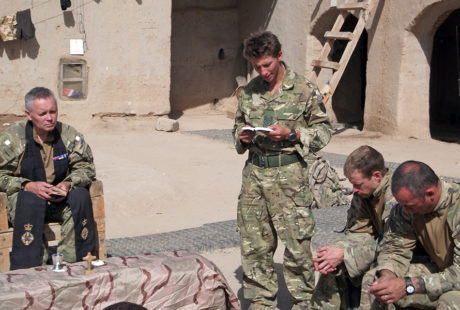 A further shortage that affected both chaplaincy on the Western Front and chaplaincy in Helmand was a lack of dedicated church space. Although the B.E.F. fought on the soil of its French and Belgian allies, such was the strength of the confessional divide in early twentieth-century Europe that its Protestant chaplains, who represented around 80 per cent of the total, were forbidden from using Roman Catholic churches. Inevitably, necessity proved to be the mother of invention, inspiring the famous chapel in the 'Upper Room' at Talbot House in Poperinghe and fuelling the hut-building efforts of the Y.M.C.A. and the Church Army. In Southern Afghanistan, the geo-strategic context of British and ISAF operations, the fevered Islamist rhetoric of Al Qaeda and the Taliban, and an ingrained jihadist tradition demanded similar circumspection and ingenuity from all Christian chaplains. For example, On Herrick XV (October 2011-April 2012) Padre Garry Humphryes (Church of England), chaplain to 26 Regiment Royal Artillery, established a new tented church at Forward Operating Base Price, fashioning an altar from a discarded table. This he adorned with a home-made cross and crown of thorns. The altar frontals for the 'army's mosque', as Humphryes described it for the benefit of local Afghans, were duvet covers purchased from civilian traders at Camp Bastion.
Despite their problems, both generations of chaplains operated within an institutional context that remained conspicuously supportive of religion, despite the army's abandonment of most compulsory parade services in 1946. Attached to the Black Watch and the Royal Scots Dragoon Guards battlegroups on Herricks X and XIX respectively, Padre David Anderson (Church of Scotland) noted that the traditional 'Kirk Muster' was still dutifully observed in these quintessentially Scottish -and historically Presbyterian- regiments. In other situations, and especially at isolated outposts, personal loyalty, politeness and sheer boredom could all combine with genuine piety to produce relatively large voluntary congregations for visiting chaplains. Furthermore, repatriation and memorial services often drew large congregations. In this respect, and despite the army's different policies on repatriation, the experience of the two conflicts once again converged. As Padre Ernest Crosse, the Anglican Senior Chaplain of the 7th Division, wrote in 1919 of memorial and thanksgiving services on the Western Front, 'Both services were often most impressive' and were invariably characterised by a 'great sense of reverence'. Although the policy of repatriation ensured that chaplains in Afghanistan were not obliged to physically bury the dead, a lot that often fell to the chaplain on the Western Front, the role of the chaplain in this ultimate rite of passage was not diminished by changing protocols.  Indeed, the ramp ceremony became iconic of what has been termed Britain's 'Fourth Afghan War', a development that kept the chaplain centre stage and was in keeping with some of the most famous images of the chaplain's work a century earlier.
In terms of their duties towards the living, the chaplain's ministry of presence was famously articulated during the First World War in G.A. Studdert Kennedy's axiom, 'Live with the men, go where they go… Take a box of fags in your haversack, and a great deal of love in your heart, and go up to them, live with them, talk with them. You can pray with them sometimes, but pray for them always'. Reputed to have earned his moniker of 'Woodbine Willie' due to his lavish distribution of cigarettes while a chaplain in Rouen, Studdert Kennedy was very far from being unique in this respect. Drawn in their thousands from civilian churches, the temporary chaplains of the First World War were natural conduits for civilian largesse, distributing vast quantities of donated tobacco, sweets, magazines and other comforts. Significantly, this role was reprised by their (largely regular) twenty-first century counterparts in Afghanistan, although very different attitudes to smoking meant that Haribo and Werthers were now popular substitutes for cigarettes.  As in the First World War, discharging the wider, time-honoured role of 'the soldier's friend' could involve more than a touch of theatre. Much as Studdert Kennedy affected an Irish brogue and P.B. ('Tubby') Clayton held court in his civilian blazer at Talbot House, chaplains in Afghanistan were liable to employ props of their own. During Herrick XIII (October 2010-April 2011), for example, Padre Andrew Earl (Church of England) became familiar to the soldiers of 13 Royal Engineers and the Counter-IED Task Force through his distinctive use of a shepherd's crook.
Age also served to distinguish the chaplain in both contexts, and to lubricate his or her relations with soldiers, who were normally much younger. As in the First World War, which from 1916 saw the British army conscript eighteen-year-olds, and which could see chaplains as old as fifty-five serving in the front line, in Afghanistan a generation gap could often work to the advantage of the chaplain's ministry and pastoral authority. Padre Clare Callanan (United Reformed Church), who initially resisted joining the Department on the grounds of her age, was attached for Herrick XV (October 2011-April 2012) to 35 Engineer Regiment and the Explosive Ordnance and Search Group. In the course of this tour, she found herself playing a 'mum role', as she described it, in the care of a fatally injured soldier and his distressed comrades.
A further constant was the chaplain's presence as a non-combatant in the front line (or, in Afghanistan, clearly in harm's way).  Categorised as medical personnel by the Geneva Convention of 1864, British army chaplains on the Western Front were usually punctilious in observing their non-combatant status. Although the Geneva Convention of 1949 and Additional Protocol II of 1977 upheld the identity of a chaplain as a protected person and non-combatant, the issue of British chaplains carrying firearms in Afghanistan came to a head as early as 2007, when Royal Navy chaplains announced their support for the practice to the British press. Their reasons were various- chaplains to other national contingents in ISAF (such as the Danes and the Estonians) were armed; the Taliban would especially value the capture (and, inevitably, worse) of a Christian priest or minister as propaganda coup; and such was their disregard for the rules of war (which was wrongly claimed to be unprecedented) that such conventions as the wearing of Red Cross brassards by chaplains and medical personnel had already been abandoned. Nevertheless, the RAChD held fast to its own traditions, and army chaplains remained unarmed.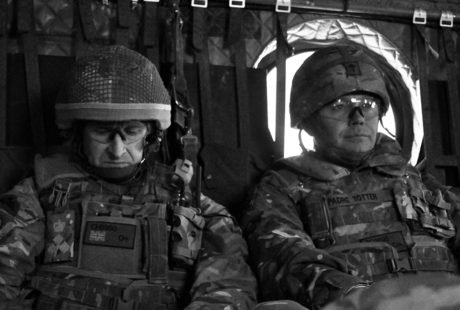 Nevertheless, it was not expected that chaplains should play a retiring role in action. Prior to Panchai Palang Padre Philip McCormack (Baptist), the Task Force Senior Chaplain on Herrick X, established that commanding officers wanted their chaplains to be as far forward as possible. Significantly, this echoed developments prior to the 1916 Battle of the Somme, when lingering restrictions on chaplains serving in the front line –including advancing with attacking infantry- were finally abandoned.  Furthermore, the perceived benefits to soldier morale of having the chaplain, an archetypal non-combatant, in the front line do not seem to have diminished over the course of a century. As Ernest Crosse put it in 1919:
It was a great thing to think that the church was ready to go where the men had to. Quite apart from anything specific they might do, it is important to realise the significance of their presence on the battlefield. From a military point of view it was far from negligible, because they alone were not under orders [my italics] to be there- and as such they could hardly fail to encourage the men, who had no option in the matter. From a religious point of view it showed to the men far better than any preaching could do, God's care for them. If a padre's presence was appreciated in the trenches at normal times, it was doubly so in those awful periods in the small hours of the morning waiting for the moment of attack. A young sergeant once remarked to me, 'Damn me, if this isn't the best battalion I ever was in. The CO goes round the tape just before you are going to kick off; the second-in-command comes almost up to the line just to see you get a hot drink at the last possible moment; and the padre follows you over the top!
In comparing the chaplains of the B.E.F. of 1914 to '18 with the army chaplains who served in Helmand between 2006 and 2014, it would be easy to overstate the significance of the latter's status as professional military chaplains.  While the typical chaplain who served in the B.E.F. was essentially a civilian rather than a Regular or Territorial –and was even branded a 'T.C.F.', or 'Temporary Chaplain to the Forces' by army officialdom- those Regulars and Reservists who served in the Royal Army Chaplains' Department in Helmand were by no means all seasoned veterans, notwithstanding the immediate backdrop of the TELIC operations in Iraq. In fact, in both scenarios a shortage of deployable personnel could lead to comparatively inexperienced chaplains being tasked with extremely challenging pastoral responsibilities. On the Western Front, the tempo of operations could mean that newly-commissioned chaplains were posted to front-line units practically on arrival in France. Although the sheer length of the army's operations in Helmand guaranteed significant infusions and even re-infusions of experienced chaplains, sometimes collective experience could be worryingly thin on the ground. As Padre Philip McCormack, from his perspective as Task Force Senior Chaplain, wrote of Herrick X:
The 19 Light Brigade chaplaincy team was quite inexperienced. Half of the team of 12 had little experience of chaplaincy. Three had just finished their basic training and 3 had less than 18 months service. Of the remaining 6, only 3 had any previous operational experience. I was the most experienced chaplain in the team with 12 years in the RAChD and a total of 9 years operational service as soldier, officer and chaplain.
A further characteristic common to the experience of chaplaincy on both the Western Front and in Helmand was a Departmental learning process, a process that was clearly reflected in the enhancement of chaplaincy training and (for Afghanistan at least) in periods of decompression. One of the remarkable features of British army chaplaincy in the First World War was that a systematic programme of basic training for chaplains was not put in place until May 1918, when a mandatory two-week training programme began at Tidworth. Prior to this, and apart from local courses established for chaplains at Woolwich and Ripon, chaplains learned their business while in post, and through the written or verbal guidance of their superiors. In France in 1917, a central chaplains' school of instruction was established for the B.E.F., its functions combining those of a training centre with those of a retreat house, but its lateness, scale and Anglican provenance mean that its overall impact was limited. Across the many years of the Helmand campaign, the dynamic was once again towards the improved training and care of chaplains. In response to the situation in Helmand, the Sandhurst-based course for new entry army chaplains (and lawyers, and medics) was extended from four to twelve weeks, and initial training at the Armed Forces Chaplaincy Centre also became lengthier and more intensive. This training process was also reinforced by further initiatives at unit level, such as the ten-month 'Mission Specific Training' programme devised by Padre Alan Steele for the chaplains of 19 Light Brigade in preparation for Herrick XV (October 2011-April 2012).  In terms of chaplain-specific, post-tour decompression, the favoured method was once again the retreat, or at least a semi-retreat, with a light-touch retreat to Rome becoming more or less standard procedure.
From the battlefields of the Western Front, and from the plains of southern Afghanistan, the voice of army chaplains was carried to the wider church and to wider society. During the First World War, and long before the constraints of MoD clearance procedures, chaplains proved to be avid contributors to the denominational press, dispatching articles and letters to publications ranging from the Roman Catholic Tablet to the Wesleyan Methodist Recorder. Furthermore, they published substantial accounts of their experiences and reflections, Anglican examples including Tom Pym and Geoffrey Gordon's Papers From Picardy, Neville Talbot's Thoughts on Religion at the Front, and the multi-authored Church in the Furnace, all of which appeared in 1917. The choice of media was, of course, very much wider for their twenty-first century counterparts, with Padre Robin Richardson publishing an on-line blog that chronicled his experiences with 3 PARA throughout Herrick XIII. In a similar vein, Padre Anthony Feltham-White, who trained as a journalist in civilian life, supplied copy to the Church Times, and many other chaplains contributed to the annual Journal of the Royal Army Chaplains' Department, which first appeared in 1922. In a further echo of the First World War, and before operations in Helmand had run their course, a collection of essays appeared in 2013 entitled Military Chaplaincy in Contention: Chaplains, Churches and the Morality of Conflict. Edited by Andrew Todd, a civilian priest and the Director of the Cardiff Centre for Chaplaincy Studies, many of its essays were written by serving army chaplains who had been on Herrick tours, and the volume (which majored on the ethical aspects of chaplaincy) was presented as a book that 'grows out of military chaplains' involvement in recent operations involving the British armed forces and, in particular, those located in Afghanistan'.
Despite the many parallels that can be identified between the role of the chaplain on the Western Front and in Helmand, it would be foolish not to acknowledge some of the many divergences and discrepancies. Needless to say, female army chaplains were entirely unknown (and probably wholly unforeseeable) in the context of 1914 to '18. Furthermore, in organisational terms, chaplaincy in Afghanistan took place in the context of a converged Department, not one that was crudely divided from the summer of 1915 between its Anglican and 'non-C. of E.' components. A further notable difference is that no army chaplains were among those Britons killed in Afghanistan, although close shaves were by no means uncommon.  A very striking discontinuity also lies in the extent to which commanding officers in Helmand, hedged-in as they were by the added complexities of international law and rules of engagement, commonly used chaplains as confidants and sounding boards in operational matters, something that does not seem to have been the case during the First World War. Furthermore, and despite the historic religious cleavage that remained during the First World War between Protestant Britain and Catholic France and Belgium, there was plainly no need for chaplains to be employed as liaison officers with local religious leaders, a role that British chaplains in Helmand could and did play as part of the NATO/UN mission to promote reconstruction and development in Afghanistan. While this contact took place with Religious Officers of the Afghan National Army as part of the British army's wider mentoring role, it also took place with civilian religious leaders. On Herrick X, for example, one of Father Stephen Sharkey's tasks as (Roman Catholic) chaplain to 4 RIFLES was 'to help develop relationships with the locals in the area, most especially with the religious leaders'. In practical terms, and accompanied by several close protection officers, this involved meeting with a local mullah at the residence of the District Governor of Nad Ali. The three-way discussion between the chaplain, the mullah and the governor seemed 'very friendly and informative' and turned on the parallels between Christianity and Islam, chaplaincy provision for all faiths and none in the British army, and the care of Muslim hospital patients at Camp Bastion. This was indeed a far cry from a friendly chat in a French village with the local curé.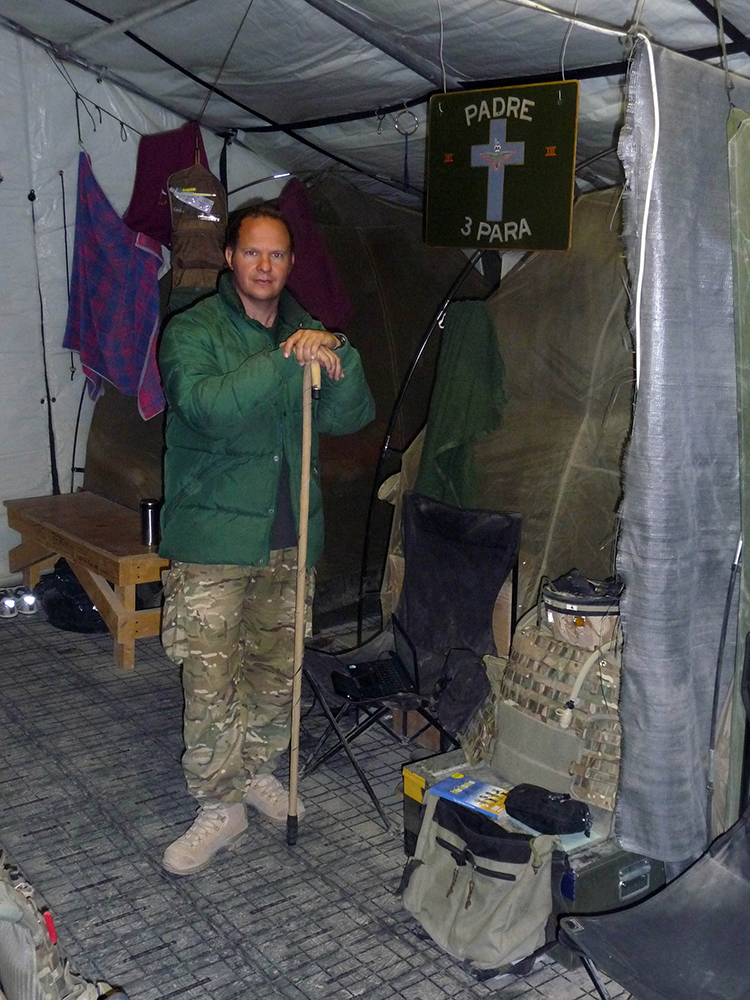 Although it is abundantly clear that the British army's campaigns on the Western Front and in Helmand were very different in operational terms, in terms of the experience of army chaplaincy they were strikingly similar in some key respects. If the nature of British army chaplaincy (especially on active service) had been profoundly shaped by the ordeal of the First World War, nearly a century later chaplains still encountered intractable problems that had beset their forebears of 1914 to 1918- problems that included insufficient transport, a lack of basic facilities, and even a shortage of appropriate experience and training. However, continuity was expressed in other respects as well, including the chaplain's ongoing welfare role, the centrality of the chaplain in dealing with death on operations, the chaplain's enduring role as a non-combatant, and in a discernible Departmental learning process. Finally, and despite massive changes in the situation of religion, and especially Christianity, in wider British society in the intervening century, in the first decades of the twenty-first century the role of the army chaplain continued to benefit from the pronounced institutional conservatism of the British army, a state organisation that continued to recognise and support the historic claims and utility of religion (and especially Christianity) in its collective professional culture and in the individual lives of its soldiers.
---
This article represents a summary of the conclusions, as they apply to chaplains, of a longer and fully annotated article entitled 'From Flanders to Helmand: Chaplaincy, Faith and Religious Change in the British Army, 1914-2014' which will be published in the Journal of Beliefs and Values in 2017. The authors are indebted to Padre Andrew Totten, and to the twenty-eight other chaplains who very kindly agreed to be interviewed for this project.