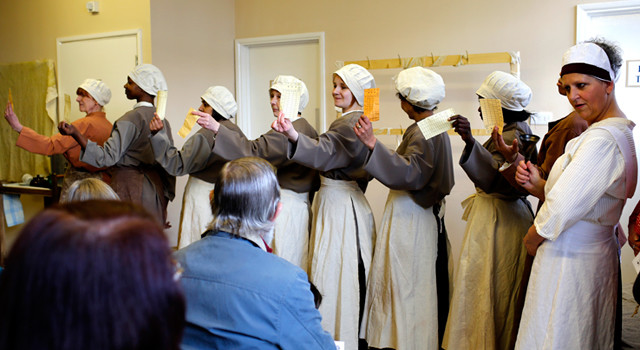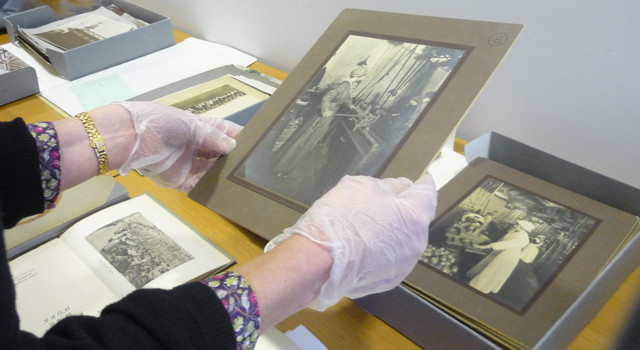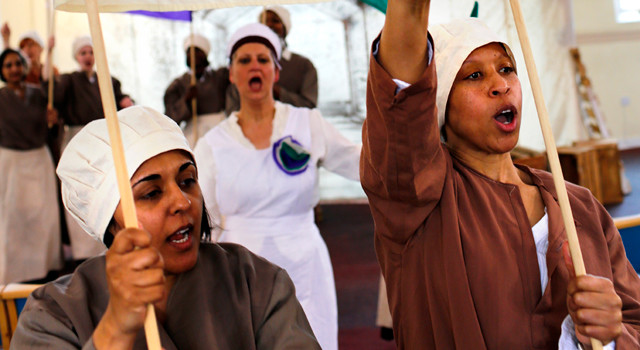 Women's Work: Stories of Female Factory Workers in WW1
Rachel Snape, Project Manager, Women & Theatre
Women & Theatre's latest heritage research project, Women's Work, explores the lives of the women who worked in the Birmingham Small Arms (BSA) factory in Small Heath during WWI.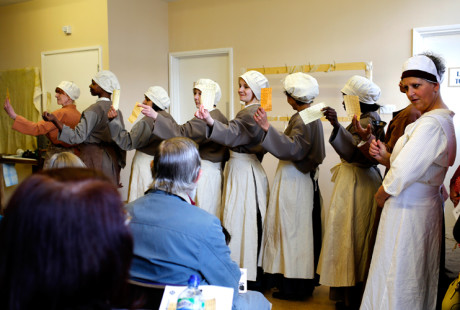 Funded by Heritage Lottery Fund, Birmingham City Council and several Charitable Trusts, it connected a diverse group of women from across Birmingham who collaborated with an artistic team to research and develop their findings into a theatre production called Clocking On, an online blog and a project exhibition.
Beginning with an Inspiration Day at Small Heath Library, the participants and artistic team met local historian Dr Chris Upton, whose introductory talk on women and WWI paved the way for our research. Members of the public also approached us with interesting stories about female ancestors who were involved with factory work in WWI. One story that was shared with us concerned a woman who travelled all the way from New Zealand to England to be an ambulance driver and contribute to the war effort. Having been rejected because she was too short, she went to work in a factory in Longbridge.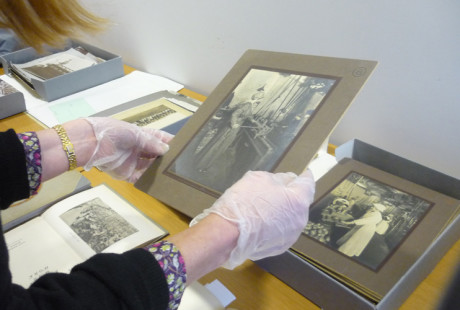 The participants also took part in oral history and archive training at the Library of Birmingham. During our visit to the archives we looked at maps of Small Heath during WWI, trade figures, wage books and photographs of the women factory workers from the BSA and Kynoch munitions factories. The images of the women operating large and heavy machinery, wearing only hats and long skirts as protection were influential as they affected the way we presented the women workers in Clocking On, the production's costumes and set design. We were also reminded of the harsh truths confronting these women, toiling for long hours and working in dangerous conditions.
Creating a theatre production to perform within the Small Heath community was always a central project aim. By considering wide-ranging and universal issues such as the differences between work and home life, family, coping with loss and feelings about the war, we hoped to make the characters in Clocking On as relatable and accurate as possible. Some of the participants created characters that had a more 'average' experience of war, others created characters that faced further battles and prejudices due to their race, sexuality or family members' objections to conscription.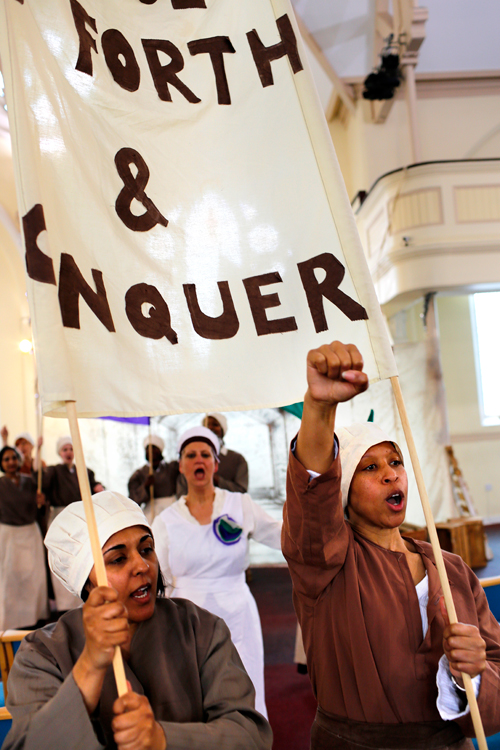 Following a 2 month rehearsal period, Clocking On was performed twice on Sunday 29th March 2015 to enthusiastic audiences at Small Heath Baptist Church. It portrayed the highs and lows for a group of hard-working women who managed to keep their spirits up when the world was crumbling around them. Some of the participants had never acted before, but they were capable and committed performers, who had gained both writing and performing skills.
Alongside the production we created a touring exhibition that consisted of research, creative responses, and production materials such as the script and costumes. The exhibition toured to 4 Birmingham libraries, launching each stay with an event that included discussion about the work, and performances of excerpts from the production. A digital archive was also developed containing information on the research process, creative responses from the participants, and production information. This can be found at womenandtheatre.tumblr.com and will also be archived by The British Library through the HLF connection.
The creation of the exhibition and blog has enabled us to extend the reach of the project to those both within Birmingham communities, and those worldwide. We hope to continue adding to our research and intend for the blog to become a source of research for those interested in continuing exploration of this fascinating subject.
Photos: Stephen Patrick Burke