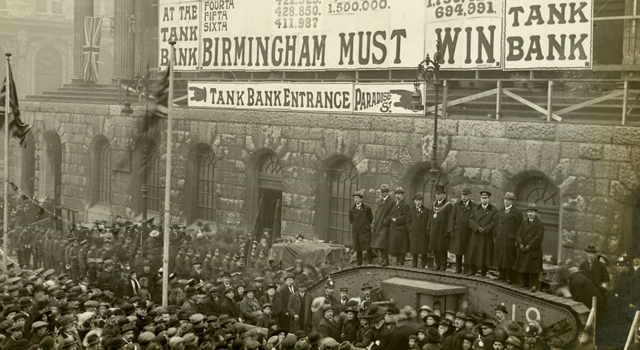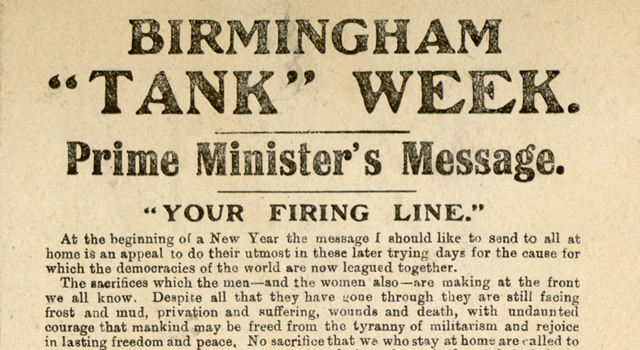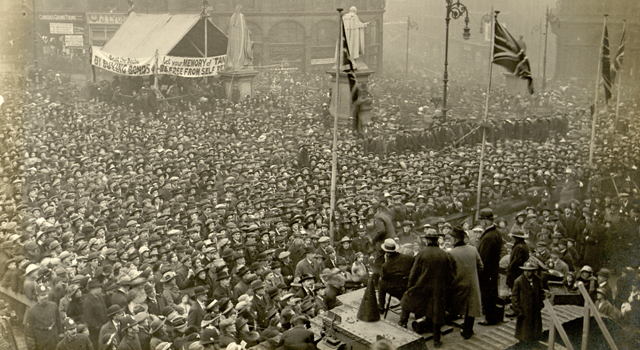 Birmingham Tank Week
Library of Birmingham
www.libraryofbirmingham.com
The National War Savings Committee was always keen to discover new ways of fundraising for the war effort and they soon latched on to the public desire to see the new charismatic war machines – tanks. In March 1918, a battered tank recovered from the battlefield was put on display in London and drew in huge numbers of visitors to not only witness the machine, but to part with their money and buy their war bonds from the Tank Bank.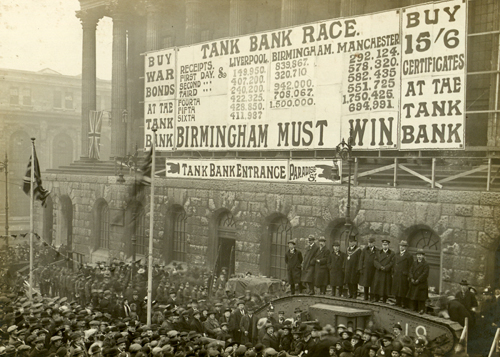 The idea was so successful that they extended it nationally and added the extra element of competition between towns and cities to see who could raise the most funds. The Tank Bank set up in Victoria Square, Birmingham at New Year 1918 and the race was on to see if Birmingham could beat its main rivals, Liverpool and Manchester. The daily totals were posted on a giant board on the side of the Town Hall and the newspapers and their advertisers joined in with exhortations to help Birmingham win the race and break the Manchester record.
---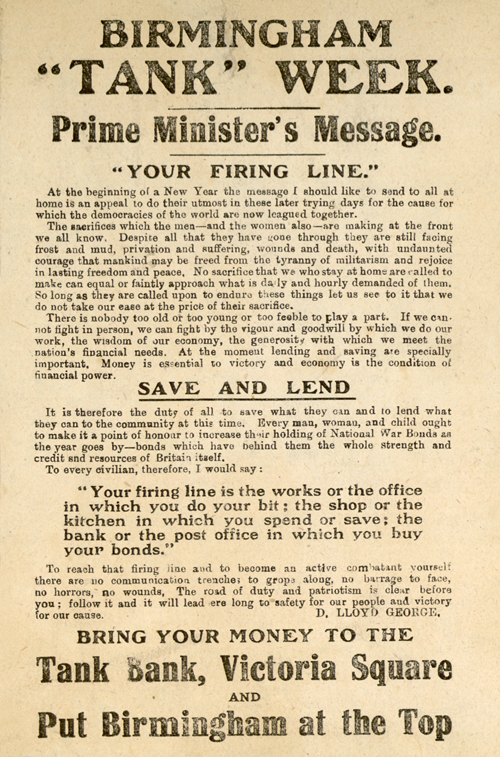 Each day the crowds in the square heard speeches from civic, religious and military leaders and even entertainers all persuading the citizens of Birmingham to invest even more in the war effort. The Bishop of Birmingham added to the challenge of beating Manchester's total of £4.5 million by setting the target at £6 million – the cost of fighting the war for just one day.
The public and large companies all rallied to the challenge and nearly every day saw records being broken. On the final day, Saturday 5th January 1918, the Birmingham Post reported:
There was a scene of great interest at the Tank Bank in the forenoon on yesterday when Birmingham's fifth V.C. Hero was presented with a framed copy of the resolution of the City Council of November 9 in which it was stated that the Council had heard with pride and satisfaction that the Victoria cross had been bestowed upon Sergeant Alfred Joseph Knight, 2nd Post Office Rifles, a citizen of Birmingham, for conspicuous bravery and devotion to duty.
---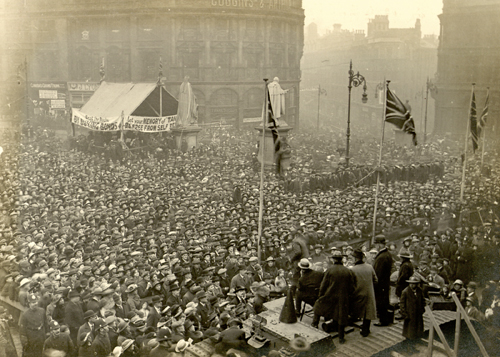 Some of the loudest cheers during and after the speech came from the boys of the Oratory School where Sgt Knight had been a pupil. Sgt Knight made an impassioned plea for every support to be given to the Tank Bank. He told the crowd that the men in the field keenly watched the papers and so long as they could see that people at home were fully supporting them they would carry on. The boys in France wanted more Tanks, more big guns, more munitions, more everything and anything to get the war over quickly. In particular the Birmingham boys would be greatly cheered to know that Birmingham had won the Tank Bank race.
£2,274,795 was taken on this final day, to bring the total to over £6.5 million. Birmingham had won the Tank Race.
---