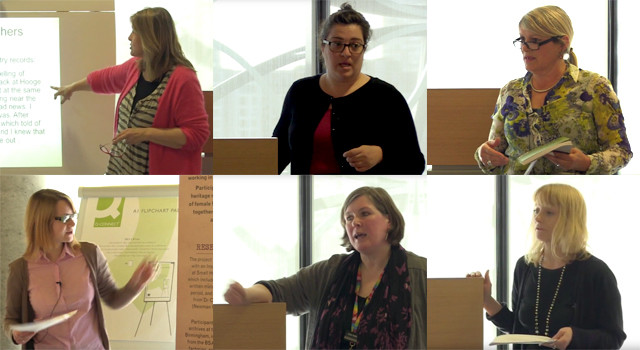 Study Day: Women and the Great War
11 April 2015, Library of Birmingham
As part of Voices of War & Peace WW1 Engagement Centre's outreach activities, this study day explored women and the Great War.
Speakers included; Professor Maggie Andrews (University of Worcester) 'Putting the home back in to the history of the Home Front'; Jo-Ann Curtis (Birmingham Museums Trust) 'Women and First World War Oral Histories'; Annabel Oxford (Friends of Castle Green) 'Canary Girls'; Catherine Pitt (Women & Theatre) 'Stories of the Factory Workers'; Dr Sian Roberts (University of Birmingham) 'Birmingham Women: Peace and Humanitarian Aid'; Dr Richenda Roberts (University of Birmingham) 'The Impact of War on Concepts of Feminity Represented in British Visual Culture during the First World War'.
See the videos, filmed by Abhinay Khoparzi, on the Voices YouTube channel.
---
---
---
---
---
---
---