Exhibition: The Great War – Coventry's Story
August 1, 2014

-

February 1, 2015
Event Navigation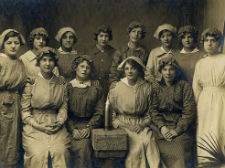 The Great War: Coventry's Story marks the centenary of the outbreak of the First World War, and the experiences of Coventry people in the armed forces and on the home front.
Through objects, photographs and archive material from the Herbert's collections, the exhibition explores the lives of active servicemen, and their personal experiences of combat and life in the trenches, including the loss of comrades. It looks at the impact of the war on the lives of people in Coventry, focusing on war production and the role of women. Refugees to the city, rationing and food shortages are also portrayed in the exhibition, examining how those who were left behind adapted and survived.
A section of the exhibition looks in detail at the memorials created to commemorate the soldiers who were killed in the conflict, with the City of Coventry Roll of the Fallen a poignant reminder of those who were lost.
The Great War is an exhibition of memories, collected and preserved by Coventry people, and serves as a moving reminder of their sacrifices and contribution.
Exhibition organised by the Herbert Art Gallery & Museum.
Exhibition sponsored by Fellows Auctioneers.